ORDER THE  BOOK NOW
Do you want a blessed life?
Do you want to be used by God to hasten His coming?
Sam Dewald uncovers the scriptural mandate for all Bible believing Jews and Christians to pray for the peace of Jerusalem. Now more than ever, Bible-believing Christians must understand their biblical responsibility to our Jewish brethren and Israel at this critical time in history.
This is a must read for the layperson and for clergy as well.
Discover when you pray for the peace of Jerusalem:
You are actually praying for…
Salvation of the Jewish people,the nations, the Ishmaels (Arabs) & Muslims

'Aliyah' – Jewish immigration to the land of Israel
Building of the physical and spiritual Zion resulting in wordlwide revival ushering into coming of our Lord 
Love this Book? Tell the World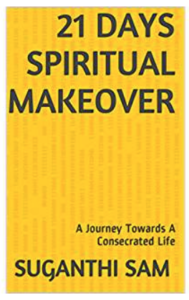 E-book – 21 days Spiritual Makeover
Kindle Version – $2.99    Buy Now
Nook Book Version -$2.99 Buy Now
Love this Book? Tell the World
If you are longing for a brand new start in your journey with the Lord leaving behind shame,guilt and defeat, this 21 days devotional is just for you. Yes, your spiritual makeover is just about to begin! It covers the major aspects of life in which we all face challenges at one point like marriage issues, unforgiveness, addictions, fear, financial insufficiency etc., No matter what the problem is, this devotional will bring you closer to God and grow spiritually. Prayer confessions included will help you to declare and practically apply in your daily life.